Health Effects of Haze
Learn the health impact of haze and what you can do to protect you and your loved ones.
Haze is an atmospheric condition where particles, smoke, dust and moisture suspend in the air obscuring visibility.
Sources of haze include emissions from power plants, industrial activities, traffic as well as farming practices.
Forest fires in countries like the US, Australia and Europe during the hot and dry summer season are also a source of haze.
In Southeast Asia, haze poses a serious and recurring problem every year, particularly between May to October, due to the burning of forests in some countries to clear land.
How Haze Can Affect Your Health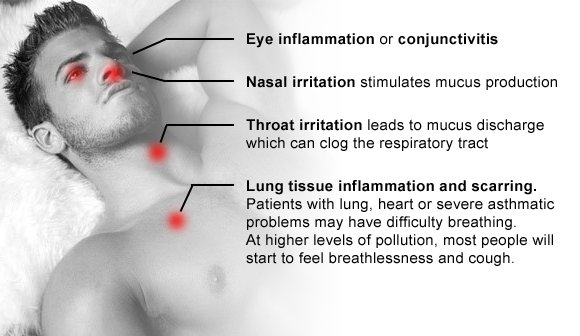 In the 1997 Southeast Asian haze which affected a number of countries in the region, an increase in air pollutants from 50 to 150 μg/m3 is significantly associated with increases of 12% of upper respiratory tract illness, 19% asthma and 26% nasal inflammation (1).
Depending on how sensitive you are, the severity of the haze and the time of exposure, you may experience the following short-term adverse effects:
Irritated eyes, watering eyes, and/or conjunctivitis (a type of eye inflammation);
Running nose, stuffy nose, sneezing, and/or post-nasal drip;
Throat irritation, dry throat, sore throat and/or coughing;
Headache, dizziness and/or fatigue;
Decreased lung function, depressed respiratory immune defenses, chest pain, and/or bronchitis (lung inflammation);
Diarrhea and/or stomach upset, if drinking water sources are contaminated by dense haze and the water is consumed without further treatment;
Anxiety, stress and/or depression-like symptoms such as insomnia, feelings of helplessness, loss of interest in daily activities and irritability.
These symptoms are usually mild and will subside when you stay indoor and limit your exposure to haze.
However, in susceptible individuals and those suffering from chronic disease, especially respiratory and heart disease (e.g. coronary artery disease, asthma and chronic obstructive pulmonary disease), their condition may be worsened by haze. They are more likely to experience more severe haze-related effects than healthy people.
Long-Term Effects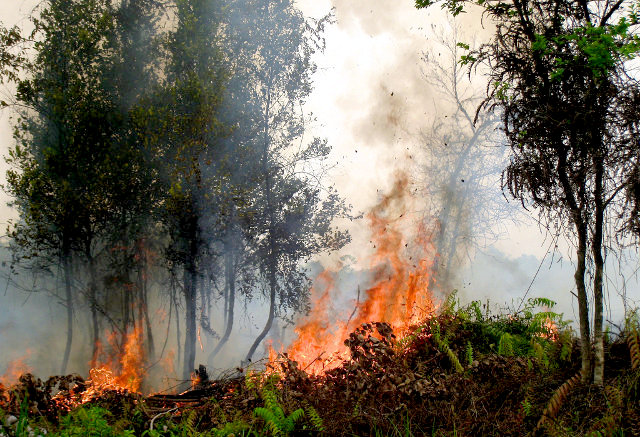 As much as 94% of the particles in a haze are below 2.5 micrometers in diameter that is, particles that are 30 times smaller than the width of a human hair.
Due to their small size, these ultra-small particles stay in the air longer and are easily carried over long distances, increasing their chances of being inhaled by animals and humans.
Known as PM2.5 or fine particles, those particles emitted by forest fires are toxic to the lungs, and are more harmful than particulate matter collected from ambient air from the same region (2).
Fine particles can also bypass normal body defense mechanisms and penetrate deep into the lungs due to their minute size. When inhaled, they can enter the bloodstream and get absorbed by underlying tissue, potentially interacting with other compounds and substances in the body, such as LDL or 'bad' cholesterol, to produce damaging effects such as inflammation.
Below are some of the long-term risks associated with fine particles:
Source: blissair